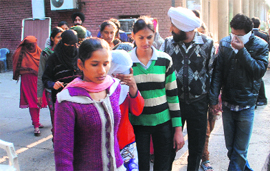 It was an "upright doctor" (name withheld) who played the whistleblower in the cheating racket that has rocked the Post-Graduate Institute of Medical Education and Research (PGIMER).
According to sources at the PGI, a person claiming to have done MBBS two years ago and struggling since then to get a PG seat sent emails (HT has a copy) to the PGI and law-enforcing agencies such as the Central Bureau of Investigation (CBI) and the Chandigarh Police on November 8, highlighting the likelihood of cheating in the November 10 exam and explaining the modus operandi.
The person claimed to have been approached by somebody to give answers to questions of the post-graduate (PG) entrance examination. He/she wrote in the email, "I received a few calls last week promising an amount of Rs. 10,000 or above if I help in cheating for some PG entrance examinations."
The institute had conducted an entrance examination for admission to medical/surgical PG courses last week. During the exam, the CBI arrested several persons who were using hi-tech devices for helping some candidates cheat; it was found that several candidates did not have the mandatory MBBS degree to be eligible for the postgraduate medical examination. Most of these were girls from Andhra Pradesh. The gang kingpin was identified as P Gurivi Reddy (31), a medical dropout from Hyderabad (Andhra Pradesh). A total of 16 persons have been arrested in the case so far.
---